TA Truck Service is the industry leader in heavy truck maintenance and repair, providing a nationwide network of over 245 locations with over 1,000 service bays, RoadSquad emergency roadside assistance vehicles, state-of-the-art TechOn-SITE mobile maintenance vehicles, a centralized national call center and the TA Truck Service Commercial Tire Network. Whether in-bay, roadside or at your own facility, nearly 3,000 highly skilled TA Truck Service technicians with certifications in ASE and TIA are available around-the-clock and equipped with the latest tools, technology and training needed to complete even the most challenging repairs, all backed by a nationwide limited warranty.
Freightliner and Western Star ServicePoint
TA Truck Service is an authorized Freightliner and Western Star ServicePoint service and warranty provider. With on staff certified Daimler trainers, genuine OE parts on hand and an approved warranty menu, TA Truck Service provides an efficient one stop solution for warranty services.
* Not available in Texas and other select markets. Warranty limited to TA Truck Service scope of service.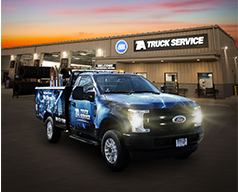 TA Truck Service RoadSquad®
TA Truck Service RoadSquad helps commercial vehicles get back on the road quickly and safely by providing emergency roadside assistance anytime and anywhere they break down. RoadSquad operates 24 hours a day, seven days a week, 365 days a year and provides the same scope and quality of services offered at TA Truck Service locations. Call 1-800-824-SHOP to learn more or for emergency commercial roadside assistance.
TA Truck Service TechOn-SITE™ Mobile Maintenance
TA Truck Service TechOn-SITE brings the technical expertise needed to service your commercial equipment right to your yard or distribution center - or wherever you have a need. The TechOn-SITE mobile maintenance experts can create a completely customized preventive maintenance program to fit any specific business needs. TechOn-SITE service trucks and technicians come to wherever your equipment is located to perform the same scope and quality of services offered in TA Truck Service bays. So when your next load is ready, your equipment is too.